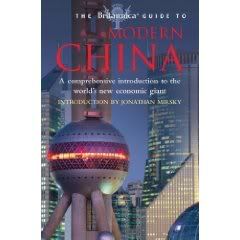 Product Description
In 2008, as Beijing hosts the Olympic Games, the world's attention is focused on China - yet the most populous nation on the planet is still something of a mystery for many. This comprehensive introduction to the country gives an unbiased and lively overview of China's people, its culture and recent history.In an illuminating account of the rise of modern China, "The Britannica Guide" shows how this former peasant economy has been transformed in the last three decades to achieve its present position as a super-power - and the future looks set to be even more impressive.
China is a country with a continuous culture stretching back 4000 years.Much of what makes the modern world started there - from gunpowder and the compass to paper and credit banking. This guide reveals those roots and the development of other innovations. It explains the differences between the Long March, the Great Leap Forward, the Cultural Revolution and the Four Modernizations. It looks at the key personalities - Sun Yat Sen, Mao, Deng Xiaopeng and Jiang Zemin - who transformed China into a modern state with the world's fastest-growing economy. And it explores the diversity of culture in the contemporary nation, from calligraphy to cuisine, religion, the arts and sport.Drawing together the most up-to-date material, and presenting it in a clear, reader-friendly style, it is the perfect companion for travellers who wish to know the country beyond the tourist trail, students and business people who need an overview of the culture and society, and of course the general reader, who wants to understand China's remarkable legacy and potent future."The Britannica Guide" series offers an essential introduction to many of the key issues of our times. Clear, accurate, and meticulously researched, the series gives both the background and analysis for when you need to know for sure what is really happening in the world, whether you are an expert, student or traveller.
About the Author
Jonathan Mirsky has taught Chinese history and Literature at Cambridge University, the University of Pennsylvania, and Dartmouth College. From 1993 to 1998 he was East Asia editor of The Times (London) based in Hong Kong. He has also written for The Observer, The Economist, and The Independent. He is a regular writer for The New York Review of Books, The Times Literary Supplement, The International Herald Tribune, and The Spectator. In 1989 Dr Mirsky was named British newspapers' International Reporter of the Year for his coverage of the Tiananmen uprising. In 1999 he was a Shorenstein Fellow at Harvard. In 2002 he was the I.F.Stone Fellow in the Graduate School of Journalism at the University of California, Berkeley.