| | |
| --- | --- |
| | |
The Most Expensive Book in The World
Posted: 01 Apr 2009 08:36 AM PDT
It's definitely an irony since I found this item on an April Fool's day. Anyway, give your eyes a break from reading just for a while and take a look at this screenshot I've taken from Lulu.com, listing down perhaps the most expensive book in the world. I'm very sure it's an error from their side, but it's funny nevertheless, so do take a look. The ebook titled "Dreamstate: Mad Sparks 5″ apparently costs you $12,499,998.75 for the downloadable PDF version, and $12,500,005.75 for the paperback version. That's $12.5 million! To add more fun to it, there are 2 reviews at the bottom of the page. Either they bought it when the price was still "normal", or they just bought the most expensive book in their lives. An April Fool's joke or an error from their side? You be the judge!
Anyway here's the link to the page:-
The Most Expensive Ebook in The World
And just incase if Lulu fixes the page, you can view the screenshot after the jump …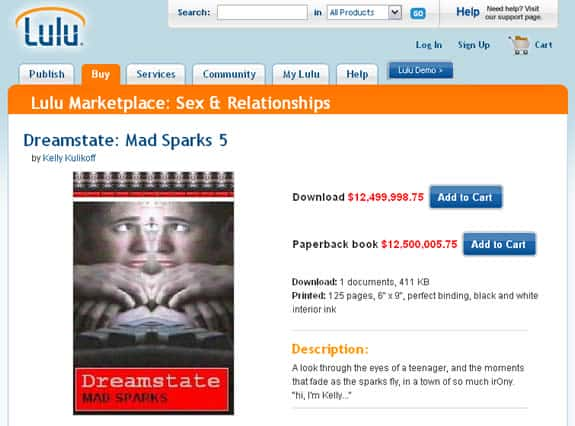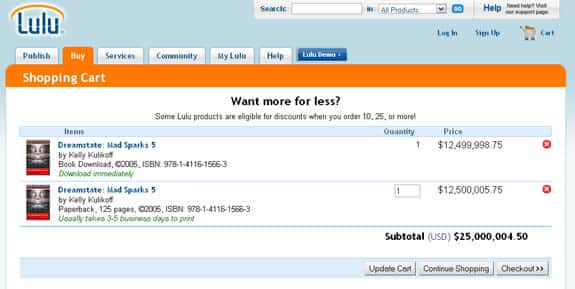 The text at the top (screenshot 2) that says "Some Lulu products are eligible for discounts when you order 10, 25, or more!" just makes it sound much more interesting.

Posted: 31 Mar 2009 09:09 PM PDT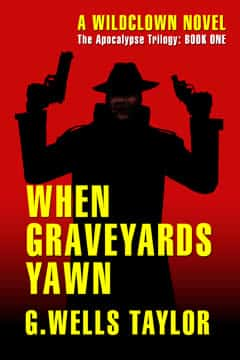 When Graveyards Yawn
by G. Wells Taylor
http://www.gwellstaylor.com
MURDER IS STILL MURDER IN GREASETOWN - Even if life has become a little complicated. Fifty years ago, at the end of the last Millennium we expected something bad to happen, but we never expected the Change. People stopped aging, the dead rose from their graves, it started raining and it's been raining ever since.Things looked so bad that everyone thought it was the end of the world, but a guy's still got to make a living doesn't he?
A dead lawyer enters the office of Wildclown Investigations and hires the detective to find his killer. Wildclown and his dead sidekick Elmo soon find themselves entangled in a battle for control of a secret that offers either hope or doom for humanity. WHEN GRAVEYARDS YAWN takes the reader to a unique setting that mixes gothic horror with the two-fisted pragmatism of a hard-boiled detective novel.
Click on the link below to download this free ebook:-
When Graveyards Yawn (PDF, MOBI, EPUB, PRC, AZW, PRC, TXT, HTML)
You are subscribed to email updates from Download Free Ebooks
To stop receiving these emails, you may unsubscribe now.
Email delivery powered by Google
Inbox too full? Subscribe to the feed version of Download Free Ebooks in a feed reader.
If you prefer to unsubscribe via postal mail, write to: Download Free Ebooks, c/o Google, 20 W Kinzie, Chicago IL USA 60610